Back To Our Services
What Does HVAC Stand For?
HVAC simply means the heating, ventilation, and air conditioning unit for your home! It's what you use to help keep your home's temperature comfortable no matter what the weather, as well as what keeps the air inside from getting stale or old smelling. You can find it outside right next to your home, as it draws in air from outdoors to use for these functions. The problem is that other things are sucked in as well and get trapped inside, building up over time. Animal dander, insects, even smoke and air pollution can all be stuck inside the unit and cause a lot of issues.
What Effect Does The Dirt Have?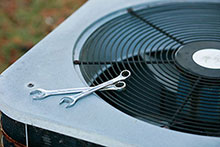 One is that you're most likely paying more for energy than you need to be thanks to the unit struggling to function. Air won't be able to easily be pulled in thanks to the clogs, and because of this it takes far longer to fully blow air throughout the household. This extended run time is what may be making your energy bill rise over time. It also strains the unit itself and wears it down so that it has a shorter lifespan. Health is also a big concern, as the contamination pollutes the air going inside and can cause trouble with bad skin, nausea, and severe allergy symptoms. This is especially a concern for anyone with breathing issues like asthma. This is why periodic cleanings are a must!
We'll Be Finished Right Away
Thanks to our years of knowledge and using the best tools available, our professionals will ensure that your unit is spotless once we're done! We'll clear out both the outside and inside components so the work will last for a long time and your air will be far fresher than before. You'll be surprised by the difference it makes!
Call Our Technicians Now
Contact Air Duct Cleaning Pleasanton and take the first step towards cleaner air for you and your family. You'll be glad that you did!
Back To Our Services